SONY UNVEILS 2X2 ON-CHIP LENS TECH FOR QUAD BAYER SENSORS, WHICH PROMISES BETTER AF PERFORMANCE
In todays market iImage sensors, especially ones with small pixels like in smartphones, feature an on-chip micro lens array. This helps to guide all the arriving light to the sensor's photo diode. Today each pixel gets its own lens. However, Sony has developed a way for four adjacent pixels to share a lens.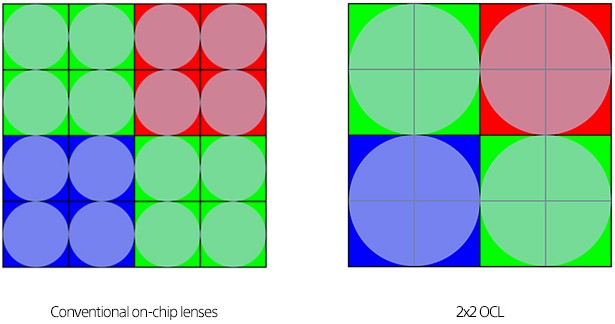 The technology is aimed at Quad Bayer sensors where the four pixels already share a color filter. However, differences in the sensitivity of pixels prevented such designs. Sony says it has figured it out and calls its technology 2×2 On-Chip Lens (OCL).
Conventional methods for detecting phase differences use dedicated pixels with no imaging functionality. Only a small number of pixels can be used as detection pixels. The new technology, now that the imaging pixels can be used as detection pixels, phase differences can be detected across all pixels. As a result, the sensor can focus on even small objects with high accuracy. This is a great improvement.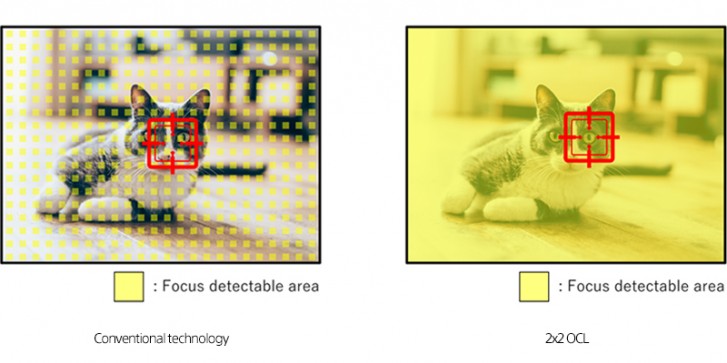 The advantage of this design seems to be improved auto-focus performance, especially in the dark.
Other benefits of the Sony Technology
With 2×2 OCL, all pixels can be used as part of the focus detection system. This also solves a related issue where low horizontal detail negatively affects the AF system's performance.

Sony states that this 2×2 lens system improves the light gathering efficiency when pixel binning is used.
No one knows how long it will take for this new technology to make its way into smartphones, but things are moving very quickly. I can't wait to check out the cameras on mobiles when this happens. Taking clear focused images will be so much easier.
Focus Performance
Focus performance at low light intensity
The technology achieves stable focus performance at low light intensity. The 2×2 OCL is able to detect phase differences across all pixels. By doing this it makes it possible to integrate more information and achieve a stable focus performance.
Color filter array with a Quad Bayer structure
This is what Sony Has done. It has adopted a color filter array with a Quad Bayer structure that places four pixels with the same color. By placing these next to each other this addresses the needs of both high sensitivity and high resolution. In addition, it also supports High Dynamic Range (HDR) imaging.
High resolution
Array conversion through a unique signal processing function enables high resolution imaging. Meaning that your pictures will look amazing with a higher resolution.
Get Higher sensitivity
Brighter images and videos with low noise are captured by combining the four adjacent pixels with the same color. So improved sensitivity is achieved through the design and production technology. The 2×2 OCL which increases the efficiency of light utilization.
Real-time HDR output
Real-time HDR output is possible through a unique exposure control technology and signal processing function.
This is a new image sensor technology that achieves high-speed focus, high-resolution, high-sensitivity, and high dynamic range.
The future of mobile phone cameras looks good. If this technology arrives soon then I will definitely grab it. There are great cameras around today that produce wonderful images. In our store you can find such cameras at great prices. So if your looking for a wonderful camera now visit our store. There are awesome deals available. Great mobile cameras are also available today that take advantage of having more lenses. These are also worth looking at.