Latest Huawei P40 News
Recently something that looks like an official render of the Huawei P40 started going around the web accompanied by some display specs as well. The original tweet from a few days ago reads 6.57-inch FHD+ AMOLED panel supporting HDR and covering 100% of the DCI-P3 color space – something you'd expect from a flagship phone. Although, something tells us this is all about the Pro version. Oh, and it will have two punch-holes to house the front-facing cameras on the front.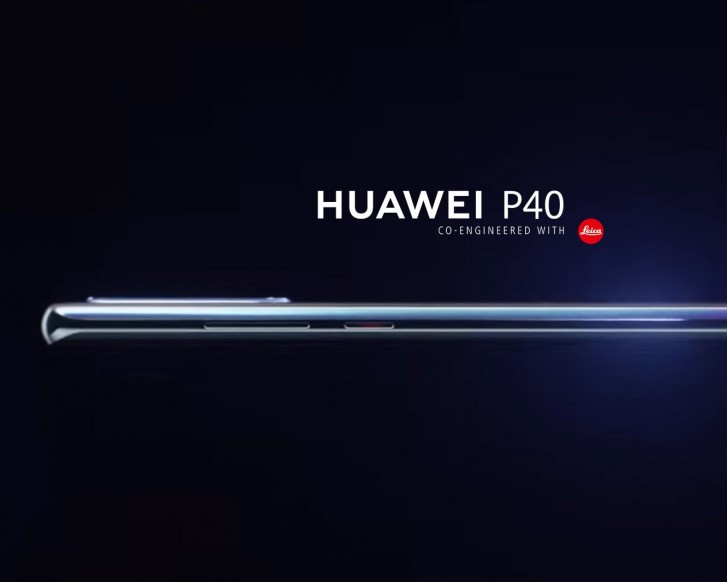 As far as the leaked official Huawei render is concerned, it doesn't reveal much except that it's co-engineered with Leica, which isn't to anyone's surprise and also comes with a curved back and front panel. However, judging by the image, the curvature isn't as extreme as on the Mate 30 Pro, meaning no waterfall screen. Other than that, the camera bump seems a bit thick.
Of course, all of this comes a bit too early as the P40-series are expected to land sometime in March, as they usually do, so all of this might be inaccurate. Stay vigilant.
Latest details
Huawei has been in the press a lot in 2019. The company delivered some excellent smartphones in the P30 at the beginning of the year, followed by the Mate 30 and Mate 30 Pro in the latter part of the year.
Sadly though, as great as the Mate 30 and Mate 30 Pro are, they were the first devices to be affected by the US trade war on China, launching without access to Google's apps.
What does that mean for the Huawei P40 and P40 Pro? Will they still launch and what can we expect from them if they do?
Here's everything we know about the P40 and P40 Pro.
Huawei P40 release date and price
March 2020 launch confirmed
Price upwards of £650
Huawei has confirmed that the P40 series will be launched in March 2020 with an event in Paris. The announcement was made by Richard Yu, president of Huawei Device business group.
In terms of pricing, the P30 starts at £699, while the P30 Pro starts at £899. We wouldn't be surprised to see the P40 and P40 Pro around the same prices as their predecessors, if not a little more – if it gets a European launch.
Design
Punch hole front camera
Metal and glass designs
Horizon Display
We've been treated to a couple of design leaks for the P40, with renders from @91Mobiles – via @OnLeaks – giving us a good sense of what to expect. @OnLeaks has a good track record, so this is likely the design we'll get. That sees a metal and glass sandwich and is pretty much what we expect, but with a pronounced camera housing on the rear of the phone.
It's also pretty certain that Huawei will make use of its Horizon Display, wrapping right over the edge of the phone, but it appears that the frame will wrap higher at the corners – most likely to provide enhanced protection against drop damage in this area.
There's no 3.5mm headphone socket and no sign of a fingerprint scanner, so it's likely to be in the display.
Screen Display
OLED, 120Hz
P40 Pro: ~6.5-6.7 inches; P40: ~6.1-6.2 inches
In-display fingerprint sensors
Higher resolutions
The Huawei P30 and P30 Pro both have a Full HD+ resolution across their OLED displays. It looks like the Huawei P40 Pro will be moving to Quad HD+ OLED, with a size of 6.5-6.7 inches – the exact dimensions are currently unknown, but this will be a Horizon Display, curved on all edges.
It's said that the P40 will be 6.1-6.2 inches and is more likely to be flat. There's a chance that this will also be OLED, but have a Full HD+ resolution.
We also expect both to offer an optical under-display fingerprint sensor.
Camera specifications
Leica system
64MP main camera, 10x 16MP telephoto
Five camera system
The Huawei P30 and P30 Pro are some of the best smartphone cameras on the market. The P40 and P40 Pro will place a big focus on their camera capabilities.
So far we've only had some sketchy rumours about what the P40 Pro might offer. That includes the Sony IMX686, a brand new 64-megapixel sensor, combined with a periscope telephoto camera offering 10x zoom with a 16-megapixel sensor. There will also be a wide-angle camera, macro camera and a time of flight sensor. That's in addition to the dual front cameras.
The P40 is likely to drop some of those camera elements, but at the moment it's not clear what each device will be equipped with.
Huawei Hardware specifications
Kirin 990
Reverse wireless charging
Fast charging
Huawei manufactures its own chips so the P40 and P40 Pro will no doubt run on the latest Kirin processor – the Kirin 990 – which is the same as Huawei uses in its Mate 30. We'd expect it to be available as 4G and 5G.
We expect to see super fast wired charging on the P40 Pro, with rumours that Huawei has a new 50W system. We also expect to see reverse wireless charging.
The battery is said to be 5500mAh, but to use graphene to make allow a smaller physical battery with a larger capacity. There's little to corroborate this, so take this particular rumour with a pinch of salt.
Huawei Software: Google apps?
It's the million dollar question: will the P40 and P40 Pro offer Google apps and services? At the moment, we expect not.
It's possible the Google ban resulting from the US-China trade war might have sorted itself out by 2020. So while we won't rule out the possibility of the P40 and P40 Pro offering Google apps just yet, we suspect it is more likely they will offer the same software experience as the Mate 30 series.
At the moment, it's safe to say the P40 will launch on Android 10 with EMUI 10, but that's as far as we can go.
Check out the great Deals In Store
Source https://www.pocket-lint.com/